New ! Platinum variable speed power swager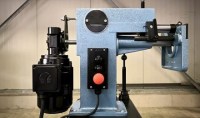 Description
The Platinum range - Model: CMZ 50.22 & 56.22
variable speed, power swaging machines.
The model CMZ 50.02 and 56.22 are variable speed power swagers, ideal for construction use and various other industries. These machines have a capacity of 1mm m.s. and 1.25mm m.s. respectively . The drive takes place via a three phase asynchronous motor with the motor being controlled via a moveable foot to toggle switch.
Illustrated is the model CMZ 56.22
The wheels are adjusted by shifting or swivelling the top shaft and because of this corrections can be made even during operation. The large sized stop plate is equipped with a hardened pre screwed plate and all bearings are maintenance free.
Capacity:
CMZ 50.22 - 1mm mild steel
CMZ 56.22 - 1.25mm mild steel
Throat depth:
CMZ 50.22 is 195mm
for the CMZ 56.22 225mm
Working speeds:
42/84 rpm
Standard equipment
These machines are complete with variable speed , 6 pairs of standard wheels (other wheels are available as optional extras)
Wheel spanner
foot control
electrics 415v
3 phase
50 hz
Instruction manual.
Optional Equipment
Additional wheels (details on request)
Stand for machine (as per illustration)
Divided pre screwed plate - T Piece guide
Holder for wheels.
Please contact us for more details on specification and wheels available.