Manual folding machine, heavy duty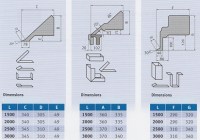 Description
This european manufactured manual folder is available in 3 versions,with segmented top tools, with high segmented crowbar tools. details upon request. Available in sizes from 1520mm working width to 3020mm width.
Features:
Easy to use
Heavy compact welded design
Low maintenance requirements
Full width acurate bending rail
For easy bending and precise adjustment of the bending angle thanks to stop with scale
Sheet thickness can be set via bending beam.
Please contact us for further information and specification details.