Hydraulic Power Box Pan Folders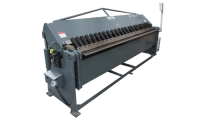 Description
We are pleased to present the HF range of hydraulic folders. These machines offer powerful folding and adjustable manual angle setting. They are the cost effective alternative to a press brake and the type of industry and market that use these folding machines are:
Marine engineering - mechanical fabrication - steel fabricators - construction - automotive - sign making - general construction - aerospace - electrical component manufacture
The range is available in four working widths : 1320 - 2048 - 2450 - 3050 up to a thickness of 4mm mild steel (tensile 40-42 kg mm2 or stainless steel in the appropriate thickness 50-52 kg mm2. The max. stainless steel 50% m.s. thickness.
All machines are offered with a 12 months warranty (extended warranties are available upon request) and with commissioning and training on site as standard (UK only) customers must provide electrical power and hydraulic oil.
Full details and specifications are available on request.